The Praise in the Park event is the culmination of Love Week - Regina. On Saturday, September 12, 2015, from 1pm-10 pm, participating musicians and bands will play music to praise and worship Almighty God in Victoria Park, the heart of the city. The headliner is Phil Wickham!!!!
Phil Wickham is, at his core, a humble and sincere artist who writes songs and worships God using the medium of music. It is with that brush that he paints images of a loving and creative God across the canvases of listeners' hearts and minds. The evidence of this gift has been apparent on all five of his critically acclaimed efforts: Phil Wickham (2006), Cannons (2007), Heaven & Earth (2009), Response (2011) and The Ascension (2013). Wickham's latest release debuted at the No. 2 spot on the SoundScan Christian Albums Chart and in the Top 40 on the Billboard 200. The first single off the album, "This Is Amazing Grace," gave Wickham his first career No. 1, claiming the top spot on Billboard's National Christian Audience Chart for thirteen consecutive weeks. On Billboard's 2014 Year End Charts, the song was the No. 1 Christian Airplay Song, and Wickham himself claimed the No. 2 spot on the Christian Airplay Artists chart. Not only has "This is Amazing Grace" achieved great radio success, but it has become a beloved anthem in the modern church, increasing Phil Wickham's recognition as a gifted artist and songwriter with a true heart of worship.
---
Powered by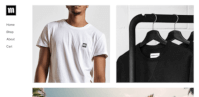 Create your own unique website with customizable templates.